A brief Chronology...

Family
Sandeep was born on March 13 1984 to Dr. Girijanandan Menon and Hemalatha Menon. His father is an Anaesthesiologist in the Kerala Health Services and his mother an Electronics Engineer turned HR & Management Consultant.

Sandeep, the first child in the family was also the first grandchild on his mother's side and first grandson on the father's side and hence was highly adored by all. His younger brother Duleep (Dulu) three years his junior is in his final year of engineering college. Sandeep was very proud of his brother's achievements as a district level soccer player.

Sandeep is greatly loved and cherished by grandmothers, his late grandfather and much loved by a troop of uncles and aunts and cousins.
School years

Sandeep did his schooling at Bhavans Vidya Mandir, Eroor. In the first grade, he topped a memory test and this became an opening to his interest in quizzing. It was here that he discovered and developed his quizzing skills, his love for reading and vocabulary. He was also very active in the football and cricket teams.

He was known for his ability to make friends easily – among both students and teachers. Ever ready to take charge of social events, Sandeep was the founder secretary of the school alumni association, the OSA.

Sandeep's notable achievements at school included among others:

- 1st Prize in 2001 and 2002 in the All Kerala Quiz Contest "Greet's Cyber Escalade"
- 2nd Prize in Southern Naval Command Quiz Contest in 2001
- 4th Prize in Discovery Channel Quiz Contest by Derek O'Brien 1998
- Best Camper at Greenberg Residential Summer Camp held at Nadukani, Idukki in 2000
- Represented the School at the Rotary Youth Leadership Awards , Kochi in 2001

His passion for extra-curricular activities did not come in the way of academics. Sandeep secured 91% in the 10th grade examinations in 2000 and followed that up two years later with another 91% in the 12th grade exams in 2002.
After 12th grade from Bhavans in 2002 and he joined Model Engineering College (MEC), Cochin University, Kochi as an Electronics Engineering major.
See section Sandy Speaks for an account of life at Bhavans in his own words– an article written for the school magazine in 2007.

University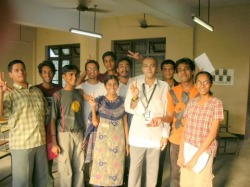 Sandeep was extremely active in college too. He continued to balance his academic interests with his two big loves – quizzing and writing. He was the founder and coordinator of 'The Iluminati', the quiz group of MEC and he was the "Illuminatus". The group was responsible for conducting internal quiz contests and training newcomers.

He also served as the sub editor of the college magazine in 2005.

In August of 2005, semester seven in college, when he was diagnosed with cancer, Sandeep's biggest concern was how this would affect his studies and his exams. Being the fighter that he was and with the support of his dear friends, teachers and family, Sandeep once again emerged a winner.

He did extremely well in his exams that year and went on to secure an aggregate of 74%. Back in college early 2006, he took on the responsibilities of chairing the 2006 placement cell. He worked tirelessly to give all his batchmates an opportunity to interview for a job and to achieve the goal of "Job for all"

Sandeep graduated from MEC in 2006 with an overall % of 74 and job offers from three companies, including the title of "best recruit" at one and the honour of securing the highest salary offer in the 2006 batch.

His list of achievements in college include:

- 2nd Prize in "Electronics Engineer" Contest Excel 2006 ,a South India Level Technical Symposium
- 2nd Prize in Annual All Kerala Quiz Contest by KRL in 2004
- 1st Prize in "Mechnova" Quiz organised by Rajiv Gandhi Institute of Technology, Kottayam in 2006
- Participated and excelled in the "Kilby Connection" Hardware Design Competition held in connection with the Excel 2K5, a South India Level Technical Symposium conducted by IEEE student branch of Model Engineering College.


Career at Apache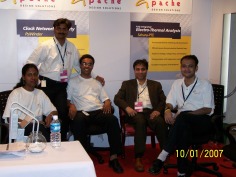 His choice of career was yet another way Sandeep chose to set himself apart from the crowd. At a time when software was by far the popular choice, Sandeep opted for a highly challenging career as a hardware applications engineer at Apache Design Solutions, a small but growing Electronic Design Automation company in Bangalore. He was rewarded with the rare opportunity to grow along with the company. An experience that he loved to talk about.

He had the unfailing support of his colleagues and management to work at home in between his treatments and he took pride in his ability to work and contribute to his work until the very end.
His fight against cancer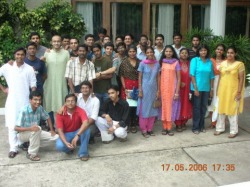 Sandeep was a role model in many ways.

He was extremely optimistic and tried to see the positive in everything that happened to him. The diagnosis or the treatment of the Medulloblastoma did not in anyway diminish his spirit. He set high goals for himself and then found ways to achieve them.

When his illness was first diagnosed in 2005, he had just started his seventh and penultimate semester in college. Fearing his treatment would prove to be too difficult and tiring for him, his doctors suggested he take a one year break from college for his treatment that would include neurosurgery, chemotherapy & radiation therapy.

But being the confident fighter that he was, he insisted on continuing to attend college and prepare for his exams through his treatment. And much to everyone's pride, he did extremely well in his exams. He was grateful for the unconditional support of his friends and teachers, without which he would have found it extremely difficult to achieve this.

In his own words- " thanks to my Friends I could do well"

Starting his career in July 2006 at Apache, he was very happy and enjoyed every minute of it. He loved his job and enjoyed the freedom and independence of his new life as a young man with a career.

In June 2007, the illness returned and he had to undergo the same rigorous treatment cycle. While most people faced with such an uphill task would have given up, Sandeep once again remained positive. He believed in the power of prayer to God and was confident that he would beat the disease yet again.

He was determined to work from home all through his treatment. When there was less work, he prepared for his GRE exams to keep himself busy. (In December 2007, Sandeep wrote his GRE exams and achieved a good score). He had set a goal for himself to continue working with Apache and also get a master's degree by taking a sabbatical from work if possible.

When admitted in hospital for a month for radiation therapy, he worked with a USB modem from his laptop. He never felt bored during his hospital stay of one month and kept himself busy with physiotherapy, work, watching cricket and an hour of prayer each evening.

In March 2008, he was discharged from hospital and was having difficulty walking. The first thing he did on his return home was to put up a poster of Ishanth Sharma, the Indian cricket team bowler near his bed, saying that his next goal was to bowl like him. He tried hard to improve his walking with the help of a Physiotherapist at home, until the disease attacked aggressively in April 2008.

Throughout his ordeal, Sandeep was never depressed or sad and instead faced facts with utmost courage and acceptance far beyond his young age. He was very friendly with anyone he met, be it at office, college or even hospital.

During his hospital stays, he was very fond of small kids in the oncology ward. He was deeply pained to learn about others illnesses and would get upset when the little ones cried in pain. In keeping with his fighting spirit, he advised patients in his age group to continue with their studies and stay positive. But he never once wanted to be treated with sympathy.

He was inspired by the life of Lance Armstrong, the cycling champion who won the Tour De France seven consecutive times after diagnosis and treatment of cancer.

Sandeep's own words on different occasions are testimony to the courageous person he was and illustrate how he faced his illness:

- "keep faith , when I knew I had cancer , my first thought was to beat it .... don't ever give up ...... YOU CAN, YOU WILL"

- "Iif you want it the most, there's no easy way out ! " - this song by Celine Dion has inspired me a lot , even though the song is about love , I applied it to general life!